Who are the Pakistani Taliban?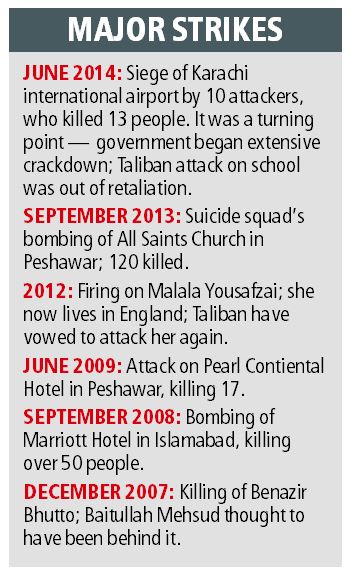 Tehrik-e-Taliban Pakistan is a loose and divided umbrella organisation that once represented roughly 30 groups of militants. The group was founded in 2007 by jihadi commander Baitullah Mehsud, and for years it and its allied groups, including al-Qaeda, have been based in the Pashtun tribal areas in northwestern Pakistan. Many Pakistani Taliban commanders fought in Afghanistan as part of the movement that swept to power in Kabul. When American forces ousted that movement in 2001, many of its leaders fled to Pakistan. The Pakistanis among them played host to their Afghan counterparts. Under pressure by the US, the Pakistani army made tentative efforts to dismantle those sanctuaries in 2003 and 2004, but it was too late. The tribal militiamen, radicalised by their Qaeda guests, chafed under the army's attempts to impose control. The Taliban started to attack Pakistani security forces and government, and soon openly declared their goal of imposing their will across Pakistan.
What relationship do the Pakistani Taliban have to the Afghan Taliban?
The group owes allegiance to Afghan Taliban leader Mullah Mohammed Omar, and cooperates closely with the Afghan movement in its insurgency in Afghanistan, providing men, logistics and rear bases for the Afghan Taliban. It has trained and dispatched hundreds of suicide bombers from Pakistan's tribal areas. The movement shares a close relationship with the Haqqani Network, the most hardcore affiliate of the Afghan Taliban. The groups also cooperate with Qaeda operatives, including Ayman al-Zawahiri. The Pakistani military intelligence agency has long provided support for the Afghan-focused Taliban, even while trying to fight the Pakistani Taliban in recent years.
What is the state of the Pakistani Taliban's leadership?
The Pakistani Taliban group is now nominally led by Maulana Fazlullah, a jihadi leader thought to be in hiding on the Afghan side. But the organisation has been under pressure from a military offensive in North Waziristan since June 2014, and the main group has suffered at least two major schisms and several bouts of deadly infighting. Fazlullah was seen as a possible peacemaker within Pakistan's militant firmament when he was chosen to lead the Taliban after the previous leader, Hakimullah Mehsud, was killed in an American airstrike in November 2013. The founder, Baitullah Mehsud, had been killed in a US drone strike in 2009.
- See more at: http://indianexpress.com/article/world/asia/explained-how-pak-taliban-grew-and-grew/#sthash.QBnnX4yW.dpuf